Kim & Alex - Mandeville, LA
Hey Mark and Melody,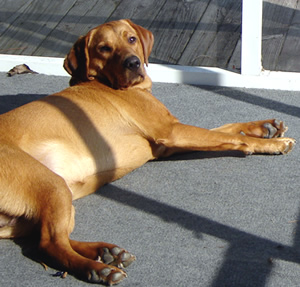 It's Kim and Alex from Mandeville, LA. You are kind of an extended family for us now that we have one of your puppies. By the way, he is the coolest dog ever and everything you promised and more. We love that dog, we love that dog, we love that dog!!! He loves to retrieve. We named him Parish by the way, a Louisiana thing. He looks a lot like his mom and is growing every day. He probably weighs about 50-60 pounds. He has not destroyed one thing in the house, thus he is an inside dog and gets the full treatment.
But I really just wanted you to know he's with good people and in a great home and he has brought a ton of love into our lives. Thank you so much for sharing him with us!!
Sincerely,
Kim-Mandeville, Louisiana .