Heather H.- Greenville,S.C.
Mark and Melody,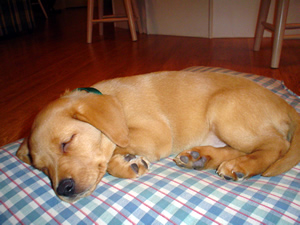 We have nothing but wonderful things to say about Reilly! We are happy to have welcomed her into our family. She is such a sweet , loving dog- definitely a "people" dog. In fact, she is our 50lb. lap dog! Though full of energy and playfulness , she is very well behaved. She has learned many words such as "sit", "walk", "retrieve", "puppy" - her stuffed toys, "kisses" which she loves to give and receive, and her two favorites "bone" and "cheese". In addition to her amazing personality she is truly a beautiful dog! People comment on her everywhere we go. We couldn't ask for a more beautiful, well-tempered dog. She continues to bring joy into our lives every day.
Heather H.- Greenville,S.C.