Brian & Carey-Boulder,Co.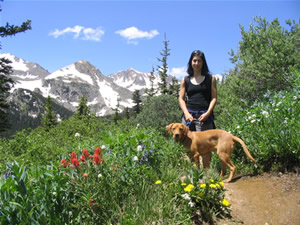 I thought you'd like an updated picture and news on 'Cedar". He's now about 8 months old and we've been enjoying many high-alpine mountain trails this summer. He's the best companion any person could ask for...the most sweet, loving and fun (yes,quite a clown) dog I've ever seen. When it comes to the business of retrieving, watch out! He's a retrieving machine! The only problem is that everywhere we go, people stop us--- they're all amazed by Cedar's incredible coat/looks which is followed by his most gentle temperament. Thanks again!
Brian & Carey--Boulder, Co.