Beth & Jeff-Alpharetta,Ga.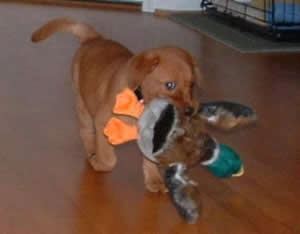 Dear Mark & Melody,
We wanted to let you know how much we love our dog "Sophie". She has a wonderful disposition and is a natural retreiver. At seven weeks old she is already retreiving and is a great swimmer. She loves people and her desire to please has made her incredibly easy to train. She was housbroken at 8 weeks, and quickly learned to sit, stay,laydown and leave. We are regularly told what a beautiful and well-behaved dog we have. She is a terrific companion and has been a wonderful addition to our family. We have attached several pictures. She is from the Sam/Maggie 2006 litter.
Thank you so much,
Beth and Jeff-Aplharetta,Ga.